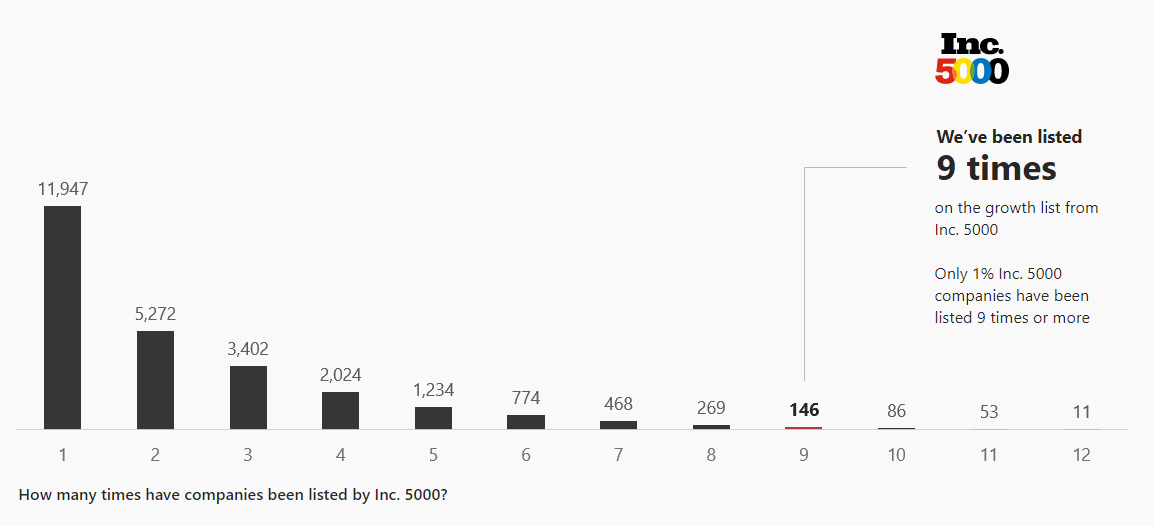 MAQ Software has accomplished the rare achievement of ranking on the Inc. 5000 list for the ninth time. Only 1% of Inc. 5000 companies demonstrate sustained growth by appearing nine or more times. The highly prestigious list has tracked the nation's fastest-growing private companies for 35 years.
The list serves as evidence of significant accomplishments by America's most successful independent businesses. Companies such as Microsoft, Domino's Pizza, Pandora, Intuit, LinkedIn, Yelp, and many others gained their first national exposure as Inc. 5000 honorees.
"We thank our customers for trusting us with their most demanding software initiatives that are transforming their industries. Our customers choose us because we accelerate their software projects through our unique techniques and processes," says MAQ Software Founder and Managing Consultant Rajeev Agarwal. "I am proud of our team members' expertise and their relentless focus on adopting the latest technologies quickly."
In the past 10 years, from more than 23 million businesses in the United States, only 23,674 companies made it onto to the Inc. 5000. Just three other companies from Washington state have made it onto the list nine or more times.
The sustained growth list gets shorter every year. Less than 46% of listed companies reappear on the Inc. 5000, as the table below indicates. Some companies stop growing, some are acquired, and some go public.
| | | |
| --- | --- | --- |
| Number of times on the Inc. 5000 | Number of Inc. 5000 companies | |
| | | 20.75% |
| | | |
| | | |
| | | |
| | | |
| | | |
| | | |
| | | |
| | | |
| | | |
| | | |
| | | |
"The Inc. 5000 list stands out where it really counts," says Inc. President and Editor-In-Chief Eric Schurenberg. "It honors real achievement by founders and their teams. No one makes the Inc. 5000 without building something great – usually from scratch. That's one of the hardest things to do in business, as every company founder knows. But without it, free enterprise fails." Read more